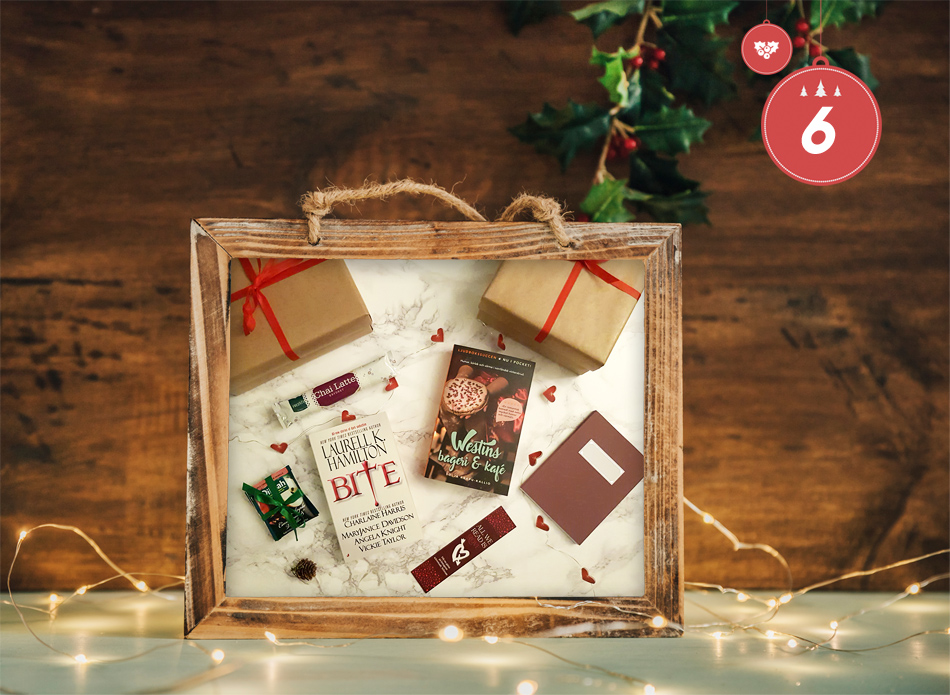 Det här lilla tema-paketet har jag satt ihop efter temat godsaker, sånt man är sugen på helt enkelt. Om ni inte redan har lyssnat på Storytels julkalender Westins bageri & kafé så kan ni nu läsa den i bokform!
Sjätte luckan innehåller: Boken Westins bageri och novellsamlingen Bite, en söt anteckningsbok, ljusslinga med hjärtan, ett bokmärke från Lovereads, juligt te och kryddig chai latte.
Westins bageri av Solja Krapu-Kallio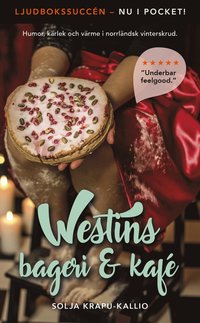 En romantisk komedi med extra mycket humor och värme!
Sigrid Westin ska fira jul tillsammans med bästa väninnan Natalie inne i stan. De ska ha en riktig myshelg, gå på spa och äta ute, och förstås prata om sina senaste dejter. För första gången tänker hon inte åka hem till familjen i Stornäs. Men hon borde kanske ha förstått att inget blir som man planerat.
När en olycka inträffar och Westins bageri & kafé står utan ledning, just när julen knackar på dörren, känner hon sig tvingad att åka tillbaka hem och ta över rodret. Att flera av traktens ungkarlar uppmärksammat hennes hemkomst underlättar inte. Men hon har ju ändå inte tänkt stanna kvar i Stornäs längre än nödvändigt.
---
Bite av Laurell K Hamilton, Charlaine Harris, Maryjanice Davidson, Angela Knight, Vickie Taylor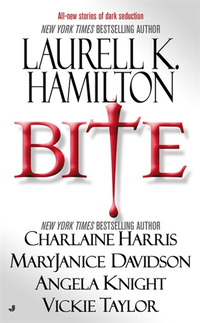 The bite is back in vampire fiction as five of today's most provocative authors cast their irresistible spells on you.
Follow a vampire hunter who can be as deadly as her prey. Meet a down-home southern girl who's found out, much to her chagrin, that vampires are her type. Feel the euphoria of fear in the shadow of a reluctant queen of the undead. Step closer to the hot-blooded edge of passion as a strange new mythology of the night is unveiled. Includes never-before-published stories featuring vampire hunter Anita Blake and everyone's favorite vampire-loving waitress, Sookie Stackhouse.
SÅ HÄR TÄVLAR DU PÅ INSTAGRAM:
Följ @Bokbesatt på Instagram och Gilla dagens lucka.
Tagga en vän som du tror skulle vilja vara med och tävla.
Svara på frågan: Vilket bakverk skulle du inte kunna leva utan?

För er som inte har Instagram: Dela det här inlägget på Facebook, Twitter eller på din blogg och svara på frågan i en kommentar.
Den här luckan är öppen fram till och med 23:59 ikväll. Tävlingsregler hittar ni här.

Tävlingen är avslutad och vinnare blev @carinas_lasdagbok